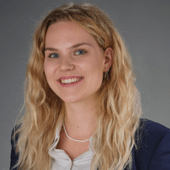 Romi Visser
Analyst – Talent Team
Romi joined the Talent Team in 2022 to help Eden McCallum in their recruitment activities and events. 

She holds a Bachelor's degree in Human Resources from Tilburg University and is currently finishing her Master's degree in Management of Cultural Diversity. 
Outside of work, Romi is an active student and is part of a basketball team.