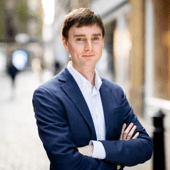 Edward Oram
Senior Manager – Talent Team
Ed joined Eden McCallum's Talent Team in 2021 with a focus on shaping great teams to support our clients.
Before joining Eden McCallum, Ed spent over 8 years at Strategy&, the strategy consultancy. There he was a Senior Manager and managed a range of strategy and commercial due diligence projects across a range of sectors including Retail, Consumer and Leisure. Ed also supported the London office's recruitment activities and was responsible for the induction of experienced consultants into the team.
Ed has an MBA, a Master's degree in Development Studies and an undergraduate degree in Economics from the University of Cambridge.
Outside of work, Ed enjoys running, cycling and travelling to explore new cities and countries.