Analyst Programme
·
Amsterdam
·
Hybrid Remote
Analyst Programme (AMS) | Main Cycle
Do you want to work at a top-tier strategy consultancy firm in Amsterdam? And start as an Analyst in our 2023 cohort? During our Main Cycle you will complete all of the recruitment stages in May and possibly receive an offer by the end of the month! 
Founded by two ex-McKinsey senior female consultants in 2000, Eden McCallum supports clients to resolve their most pressing issues of strategy, operations, and organisation. Working with a group of independent consultants of the highest calibre, we have pioneered an approach delivering tangible impact, client ownership, and great value. Our clients include a third of the FTSE 100, 40% of the AEX, a third of the world's largest private equity firms, and 50 of the global Fortune 500. 
Our Analyst Programme 
A unique development opportunity in consulting, the Analyst role at Eden McCallum enables you to work closely with the very best independent consultants, whose backgrounds bring together experience from the top traditional strategy firms (such as McKinsey, Bain, and BCG), and track records in industry. 
The Analyst role offers the opportunity for significant collaboration with clients from the start – helping them address a wide variety of strategic challenges and opportunities 
As part of a dynamic, innovative, and entrepreneurial firm, you will have the right and the opportunity to step-up and play a meaningful role in supporting our growth and continued success, working with our partners and senior staff on business development and other important internal initiatives. 
Our structured training programme will equip you with a 'toolkit' that enables you to add value to our clients from the very start. This begins with a three-week induction in September consisting of formal training followed by regular cross-office and local-office training sessions. 
So, do you: 
Have a record of outstanding academic and personal achievement? 
Have a demonstrated interest in understanding how businesses work? 
Enjoy solving challenging problems with rigor and pragmatism? 
Have leadership skills and enjoy working as part of a team? 
And are you: 
Comfortable with collecting and interpreting qualitative and quantitative data? 
Confident, creative, resourceful and independent? 
Committed and keen to invest in your career? 
About to complete or have you recently completed your Master's degree (excluding MBA), or are you looking to move on from your first job? 
If you believe that this role suits you, we would love to hear from you! 
 
Please note that it is possible to divert from a September start date. If you wish to start later in 2023 or in the beginning of 2024, we ask you to apply now, follow our training programme in September, and officially start later in the year.  
The Main Cycle 
By applying for this vacancy, you will enter the booster period in May! Meaning, you will receive an offer by the end of the month, when successfully completing the recruitment process. All dates are fixed so make sure to mark your calendar! 
Step 1: CV Selection & Motivation review 
A selection will be made based on your CV, looking at (outstanding) academic achievements, extracurricular activities, and your motivation for Eden McCallum and our Amsterdam office. 
April 30th Application Deadline Main Cycle 
May 1st Feedback on CV Selection & Motivation Review 
Step 2: Numerical test 
An online test to assess your numerical capabilities and analytical skills. 
May 1st Invitation to schedule your numerical test 
May 8th , 9th , 10th , 11th Numerical test days 
May 12th Feedback on numerical test 
Step 3: Interview round 1 
This step consists of a CV & Motivational interview and 2 case interviews, conducted by Associates, Consultants, Managers or Partners. 
May 15th, 16th, 17th & 19th Motivation + First Round of Case Interviews 
May 19th Feedback on round 1 
Step 4: Interview round 2 
This step consists of 2 case interviews with Managers or Partners, as well as a Fit Interview with one of our Analysts. 
May 22nd – 25th Second Round of Case interviews with Managers or Partners 
May 26th Feedback on round 2 + Offer 
Step 5: New Joiners Drinks 
If you have received and accepted your offer, we welcome you to our Amsterdam Office New Joiners Drinks on the Zuidas to meet your new colleagues! 
June 23rd New Joiners Drinks 
Step 6: Induction in London 
In a three-week training & social programme at the beginning of September, all new analysts of the 2023 cohort from both the Amsterdam & London offices will meet in London.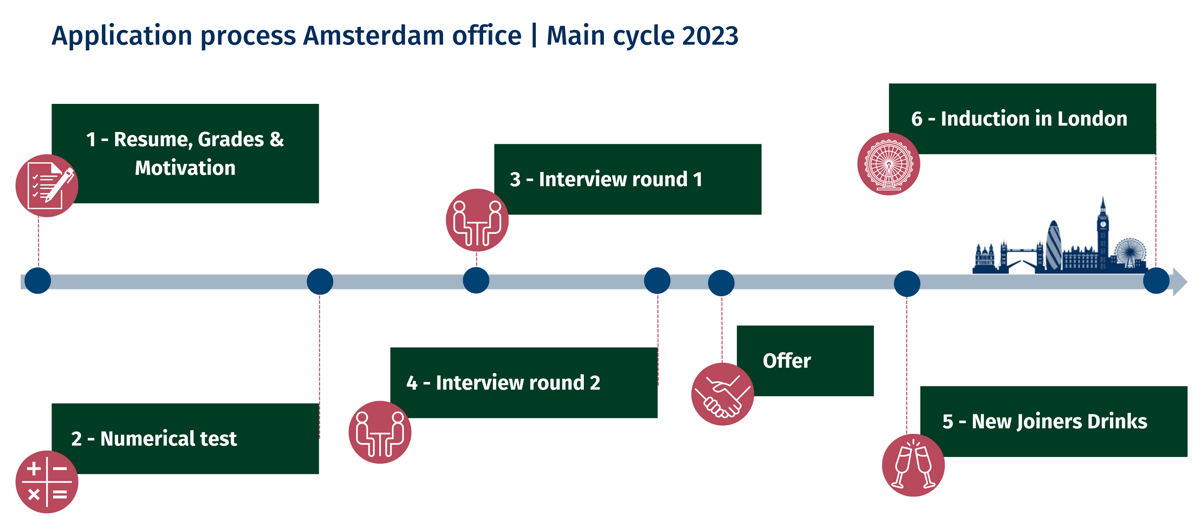 To apply: 
Please upload your CV, cover letter, and transcripts (High school, Bachelor & Masters) before Sunday April 30th 2023 (23:59). Note that fluency in Dutch & English is mandatory. Additionally, you must be able to work in the Netherlands (and the rest of the EU) without visa restrictions. 
 
We look forward to hearing from you! 
Eden McCallum is committed to creating a diverse and inclusive workplace, as we believe that this is key to building and fostering excellent teams and delivering high quality solutions to our clients. We therefore encourage anyone to apply regardless of gender identity, ethnicity, sexual orientation, and social or cultural background. 
Our team

Locations

Remote status

Hybrid Remote
Analyst Programme
·
Amsterdam
·
Hybrid Remote
Analyst Programme (AMS) | Main Cycle
Loading application form
Already working at Eden McCallum?
Let's recruit together and find your next colleague.